Experience the thrill of the drifting in your own VR boat!
A VR drifting simulator is a type of virtual reality (VR) simulator that allows users to experience the thrill of drifting in a virtual environment. It typically consists of a motion platform, a steering wheel, pedals, and a VR headset, which together provide users with a realistic and immersive drifting experience. VR Drifting Simulator Boat is a VR device that allows you to experience the pleasure of a rowing boat without being wet, and bring a VR helmet that allows you to instantly immerse in high-definition video, without having to go to the suburbs, you can row on a virtual river. The more ferocious the turbulent river, the more it provoked the desire to conquer it.
VR Drifting Simulator Boat Features:
Realistic Experience: VR technology allows for an immersive experience that feels like the real thing. With a VR drifting simulator boat, you can feel like you're on the water without leaving your home.
Realistic Motion Platform: The VR drifting simulator boat is equipped with a high-tech motion platform that simulates the movement of waves and the feeling of drifting on water.
Multiple Game Modes: The VR drifting simulator boat offers multiple game modes, including single player, multiplayer, and timed challenges. Users can compete against each other or try to beat their own high scores.
Realistic Sound Effects: The boat's sound system is designed to replicate the sounds of a real boat on the water, including the sound of waves, wind, and engine noises.
Cost-Effective: Owning and operating a real boat can be expensive, but a drifting simulator boat offers a cost-effective alternative. You can enjoy the thrill of boating without the ongoing expenses associated with maintaining a physical boat.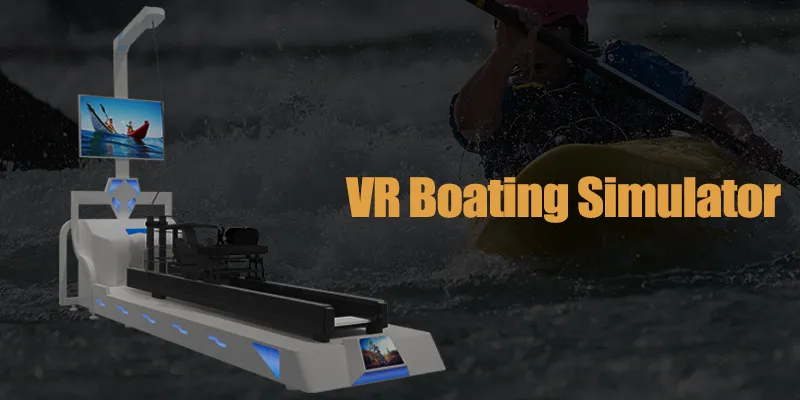 VR Drifting Simulator Boat Parameters
| | |
| --- | --- |
| Name | VR Drifting Simulator |
| Type | VR Sport |
| Game quantity | 3 |
| Size | L3145*W950*H2100(mm) |
| Power& Voltage | 1000W & 220V |
| Weight | 150 |
| VR helmet | DeePoonE3-C |
| Material | FRP, Metal plate & Acrylic |
| Screen | 42 inch |
| Application | Shopping mall, theme park, school, game center, ect. |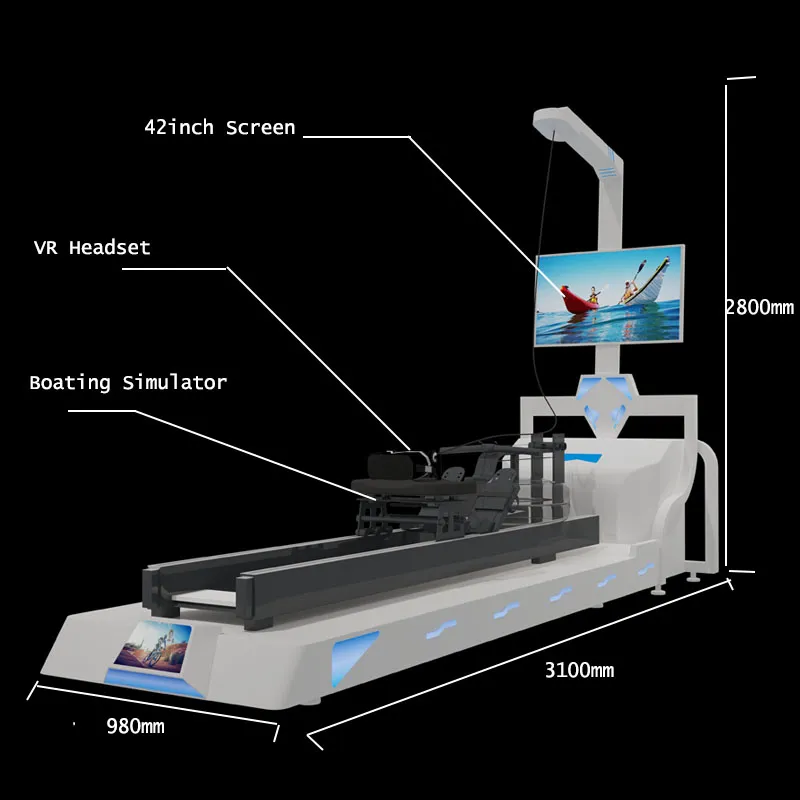 Looking for a VR drifting simulator boat? Look no further than China's top manufacturers and suppliers! Our factory offers competitive prices and boats for sale that will take your virtual boating experience to the next level.
FQA:
1、Q:Will you send Technician and help us to install the machines ?
A:Yes, Free charge for our thchnician, customer just need to pay the airfare and accommodation
2、Q:I am a starter for VR game park business, How we run it in the shopping mall ?
A:We have served over 200 clients for VR game park, we could share it with our client's experience and teach your staft to run well to get money back quickly.
3、Q:What kind of service are you providing?
A:Our sales team will provide professional advice on selecting the more suitable and profitable machines for your project. 2D/3D layout will be provided free of charge, if floor plan and project details are provided.
4、Q:Could provide design layout service ?
A:Yes,We provide free 2D/3D design layout service
5、Q:Can I customize and put my own logo on the machines?
A:Yes, we can put your logo on the machines. Please contact our sales for details about customization.
6、Q:What's your warranty of your VR simulator?
A:We provide 12 months warranty service for hardware and lifetime maintenance on software after delivery.
7、Q: What is the shipping price?
A:1.Our equipment is generally transported by sea or air, and the specific price is calculated based on the weight and volume of the ordered equipment, and the destination port cost.
2.Our company has a professional cooperative logistics company and provides full logistics tracking operation, please contact us for quotation.
8、Q: How to deal with after-sales problems?
A:1.We have a dedicated after-sales team online remote support assistance;
2.On software installation and maintenance, supplier provides lifelong online support by Teamviwer in free.;
3.During warranty (12 months after delivery), the customer will get maintanence for free forever and free exchange of damaged keyparts but needs to cover shipping cost of exchanging the damaged parts.
9、Q:Do you provide OEM or ODM service ?
A:Yes, we have over 8 years of research and development experience in the XR field.and we can provide SDK to customer
10、Q:How long is the lead time ?
A:Standard product:5-10 days( depends on the order quantity)
OEM order:20-40 days